Heidi Button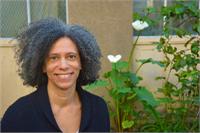 Heidi began studying aerial at the Pickle Family Circus School in San Francisco in the late 1980s. A few years later she ran away to France, where she studied at the Fratellini National Circus school in Paris and the National Circus School of Rosny-sous-Bois, France. Heidi studied swinging trapeze for 3 years under the tutelage of Zoe Maistre. Her professional career took off in 1996 with Transe Express, where she performed static trapeze on a human mobile from a crane 90 feet in the air. In 1999 she performed with them for The King of Sweden in front of the Stockholm Opera House. She toured 4 years with the French Street Theater company Jo Bithume, playing shows all over Western and Eastern Europe, and even down into South America. She has performed static trapeze, aerial silk, rope, hoop, aerial diamond, hung from a harness at 30ft, and embodied a myraid of ground characters throughout. She once played a Death Wraith writhing up her rope and into infinity. In 2001 and 2002, Heidi toured on Caravan Stage Barge's floating theater boat in the Eastern US, playing numerous aerial characters and grappling aloft in the rigging of the barge's 90-foot masts. Heidi has played with bands and was once Santa's Helper. She played a Harpie intent on stealing a man's soul, a slut intent on stealing his body, and even an errant schoolboy. Many of these characters were in the air, though many were ground characters that interacted with the audience. Since 2000, Heidi has been steadily teaching in the US at Trapeze School NY, Streb Lab for Action Machanics and the Skybox (both in Brooklyn), and at various summer programs around the Northeast. The last few years have seen her create an original aerial apparatus, and help her students create their own artistic routines.
Heidi Button instructs the following:
Intended for new students, Aerial Conditioning: Level 1 is an endurance and strength-building class that targets core, arm, and leg strength, while developing cardiovascular and muscular endurance. This 90-minute class mixes ground conditioning with stretching and apparatus training to work the entire body, build up a sweat, and tone muscles for maximum strength and control. Students will work singly and in partnership on apparatus such as Static Trapeze, Rope, and Wall Rack to develop confidence in their own strength and coordination. Aerial Conditioning: Level 1 is a drop-in class, which can be started at any time by people of any age and fitness level.

No Prerequisites.