Dwoira Scheffer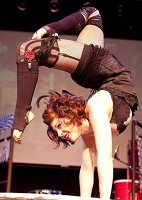 Dwoira Galilea, a New York City native, trained in rhythmic gymnastics from age 9 through 13. She graduated from the Performing Arts High School of NYC (LaGuardia) as a theatre major, and took courses at NYU Tisch's Experimental Theatre Wing, as well as flying and static trapeze, tissu, and contortion lessons on the side. She spent 9 months in Brattleboro, Vermont at the New England Center for Circus Arts, and moved to San Francisco to continue pursuing her training.
At Circus Center she trained in tissu, hoop and static trapeze and spent 3 months in Elena Panova's Professional Aerial Program. She also trained in contortion with Mongolia's Golden Girl Serchmaa Byambaa and 3-time Guinness World Record Holder Leslie Tipton. For the past 6 years she has toured with several shows, including traditional circuses in Canada and Japan, as well as several US tours and Bay Area performances.
Dwoira Scheffer is currently not instructing any classes.