Deanna Audrey Hammond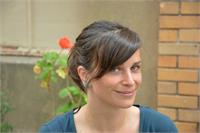 Deanna Audrey Hammond originally taught stilting and stilt-creature
choreography to fellow performers and community volunteers as the
stilt troupe director for the All Souls Procession in Tucson, AZ. In
her capacity as a primary troupe member of Flam Chen pyrotechnic
theater company, she taught aerial Tissu (Silks) classes as a founding
instructor at the Tucson School of Circus and Performing Arts (TSCPA).
She taught all-level aerial silks classes at The Schoolhouse in San
Francisco as part of her artist residency there in 2011. She was a
regular instructor of beginner, intermediate and advanced aerial Tissu
classes at Aspen Aerials in downtown San Francisco for 9 months. She
also has experience teaching the art of poi (fire spinning) to
individuals and small groups for special projects. She has been
teaching adult level 1 and 2 aerial Tissu classes as a substitute
teacher at Circus Center since spring 2015, and has been teaching
regular level 1 and 2 Tissu classes and private lessons there for the
entirety of the summer session 2015. She has also been the full-time
lead aerial instructor of Circus Center's summer camp for the summer
of 2015. In this role, Deanna has also had the opportunity to assist
instructing children ages 7-14 in basic trapeze, tightwire, rolling
globe, rolla bola, stilting, poi, plate spinning, unicycle, and other
beginner-level circus arts. Deanna has been teaching all-level adult
Aerial Silks classes regularly out of Sunset Youth Services' (SYS)
youth center since 2011, where she continues to offer classes.
Deanna Audrey Hammond instructs the following:
Students learn different ways to climb the silk and get stronger. They learn basic moves such as locks, holds, and drops.

Prerequisite: Instructor Approval

Recommended complementary classes: Aerial Conditioning, Stretching, Physical Limitation Elimination.