Jeremy Vik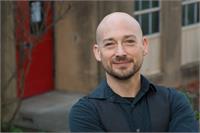 Jeremy Vik came to Circus Center in 2004 and graduated from the Clown Conservatory (directed by Jeff Raz) in 2005. Realizing that clowning is the hardest thing on Earth, he returned to acting and spent 5 years performing around the Bay in mostly Shakespeare and Musical Theatre. Then in 2010, he returned to Circus Center and completed the Professional Acrobatics Program, specializing in Handstands. Jeremy has performed for the San Francisco Shakespeare Festival, Shotgun Players, Goldenthread Productions, Marin Shakespeare Company, 42nd St. Moon, Virago Theatre Company, and many more. In addition to acting, Jeremy performs chair balancing and juggling all over the Bay. He has performed with Circus Bella, Sweet Can Productions, the Clown Cabaret, and more. Jeremy has a BFA in Performance from Southern Oregon University and is a proud member of Actors' Equity Association.
Jeremy Vik instructs the following:



Learn the basics of handstand, the foundation of circus. Students are introduced to the three pillars of handstand—thinner, lighter, more alive—and also practice the basic handstand form. Both acrobatic and aerial students can benefit from practicing handstands.




Handstand is the foundation of all acrobatics. This class is for more advanced students, exploring many variations of handstands including planks, one handed handstands, headstands and handstand pushups.

Prerequisite: Instructor approval





Tumbling is part of an acrobatic foundation. Students will practice body awareness and how to control their bodies in the air. This tumbling class offers three parts: warm up and stretching; ground tumbling skills like rolls, cartwheels and round-offs; and mini-trampoline. With this apparatus, students learn and practice all kinds of jumps and landing skills such as vaulting horse jumps and head-springs, etc.