Kris Carrison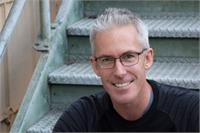 Kris Carrison brings nearly three decades of experience in gymnastics and circus/performance arts. Kris is an active, professional member of USA Gymnastics; Instructor Certified, Safety and Risk Management Certified, and USOC SafeSport Certified. He recently retired from 15 years with Cirque Du Soleil, where he invented acrobatic material, created solo acts and performed over 5,000 shows with Saltimbanco, Quidam and The Beatles, LOVE. Kris holds a degree in English Literature from Stanford University where he was a member of the '92 NCAA Gymnastics National Championship Team. He lives with his Labradoodle Sage in the Dolores Heights neighborhood of San Francisco.
Kris loves surfing, long distance backpacking, playing the piano and reading classics. Kris aims to provide quality coaching and guidance that empowers artists, gymnasts and circus performers to safely pursue their dreams and realize their greatest potential.
Kris Carrison is currently not instructing any classes.