Michelle Cooper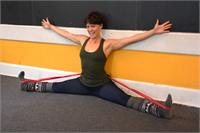 Michelle Cooper is a California native and has lived in San Francisco for over ten years. She loves stretching and shortly after beginning classes here at Circus Center, she was accepted into the Contortion program and began teaching the beginner and intermediate level flexibility classes. As an instructor, she tailors her teaching style to the needs of the students and believes that anyone can become more flexible using safe and dynamic techniques She focuses on proper alignment, paired with isometric stretching techniques and assisted stretches to quickly improve flexibility.
Michelle is a lover of animals and the environment! Outside of Circus Center, she can be found volunteering for multiple animal rescue nonprofits in the Bay Area.
Michelle Cooper is currently not instructing any classes.