AFTER THE EVENT
We are still reveling in the success of our Gala on Saturday night. After all is said and done, we will have raised a net of $27,000 for Circus Center's programming ($3,000 more than our goal).
Still, we can't help but feel that the emotional benefits to our community were even more important. It meant a great deal to everyone there to see Circus Center doing something that made Elena so happy. Plus, people were very happy to get to dress up! And here are some pictures to prove it…
Want to see more?
Take a look at all the photos from the event:
Circus Center's inaugural Circus Trailblazers Gala honors the one and only Elena Panova, award-winning aerialist and beloved teacher, with a fun and fancy night in the elegant and modern Z Space theater. Celebrate Elena's lifetime of innovation and artistic dedication with an evening of fabulous fun, including special tribute performances from former students-turned-international circus stars, refreshments, and the circus community far and wide.
MORE ABOUT CIRCUS CENTER FUNDRAISING

Circus Center is a 501(c)3 nonprofit. Your support is crucial to helping us maintain the quality and accessibility of the programs you love.

Our total budget for this fiscal year is over $1.7 million dollars. That includes instructors, administration, and staff for the dozens of classes a week we offer, professional-track and recreational youth programs, the professional training program Clown Conservatory, a production season with 12+ shows a year, our circus outreach program, and maintenance and repair costs for our building and equipment.

About 85% of these costs are covered by revenue from tuition for classes, group events, and summer camps. So why have fundraisers? Fundraising efforts, like the Circus Trailblazers Gala, enable us to do mission-centric programs that don't cover their own costs, like our community productions, outreach programs, scholarships, and more; and what's more, to do it at a level of quality and accessibility that our community deserves.

Your gift today means that every year, thousands of people of all ages, including you, have access to incredible circus training in small classes at a value that can't be beaten; bigger and better community shows every season, with affordable tickets; and, most of all, your gift means we can serve you, our community, better, and continue to grow the vibrant circus arts community that we love.

Thank you for all your support, past and present. Please join us at this gala and help continue our legacy of high-quality, accessible community circus.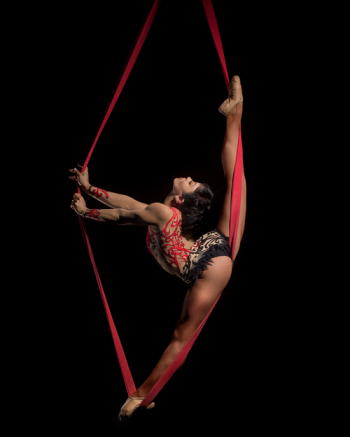 Elena met her husband Sasha Lyutyy while on tour in 2014. Together they developed a one of a kind, dangerous and sexy perch act. They are always looking to push the boundaries of what new and feats of amazement they can achieve while performing this unique and traditional discipline. On her own, Elena specializes in Aerial Straps & Aerial Hoop. Her other disciplines include: hula hoops, contortion, flying trapeze, and aerial rope. Elena has been touring with circuses since 2013. She had toured with: Carson and Barnes, Cole Brothers Circus and Circo Hermanos Caballero.
Matthew is a roue cyr artist who has performed worldwide. He took home the Cirque Phenix Award for his roue cyr act at the 2015 Festival Mondial du Cirque de Demain in Paris. He and his partner took the internet by storm with their performance "The Arrow" in honor of the victims of the Orlando nightclub shooting. Matthew is also a graduate of Circus Center's Professional Training Program.
Vladimir is famous worldwide for his creation The Red Harlequin, which revolutionized juggling as an artform. With his well-defined Harlequin character, truly original (and bendy) moves, and unusual bouncing juggling rings, Tsarkov's act became a global sensation, winning Gold at the Festival Mondial du Cirque de Demain and launching a career performing in elite shows around the world. Vladimir began his professional training at the famous Moscow Circus School one year ahead of our honoree, Elena Panova!