The Key to a Pain-Free Spine
Injury Prevention for the Low Back
Are you at risk for low back injury? This highly interactive, two-hour workshop will lead you through a battery of low-back, circus-specific strength and flexibility tests to determine your injury risk during participation in circus activities.
You will receive either a pass/ fail score on each part of the test, and will be instructed in specific exercises for the components that you did not pass. At the end of the workshop, you will have a comprehensive injury-prevention plan of exercises, mobility drills, and stretches that are specific to YOU and your body!
You will also be instructed in an optimal warm up and cool down routine that will both optimize your athletic performance AND prevent future injuries!
June 3 – 29, 2018
APPLICATION DEADLINE: February 5
SCHEDULE
Each day students will take 2 classes, totaling 3-5 training hours.
Classes will be held between noon - 9pm.
SAMPLE SCHEDULE:

Monday: Injury Prevention and Contortion
Tuesday: Hand Balancing and Acrobatics
Wednesday: Contortion and Specialty Workshops
Thursday: Acrobatics and Active Flexibility
Friday: Semi-Privates and Hand Balancing/Conditioning

Note: Most days will also have open gym time scheduled


DATES, RESTRICTIONS, AND COST
Dates: June 3-29, 2018
Ages 17 and up
Cost: $2500
Limited space. Students must be accepted in order to attend.


PAYMENTS
March 5: Deadline for $500 non-refundable deposit
April 16: Deadline for remaining balance

HOW TO APPLY
Click the button below to fill out the application form, plus submit an audition video (max length 5 min, see application form for details), no later than February 5, 2018. Admissions notifications will be sent out no later than February 19, 2018. No early admissions.



Cancellation fee:
Between April 14 and May 4, a client can be refunded 50% of the total tuition, less the $500 non-refundable deposit.
After May 4 no refund given.



FAQ

Is this program suitable for beginners?
Short answer, no. This program is designed for students who have had previous flexibility or contortion training. That said, everyone is encouraged to apply!

Why don't you have a minimum skill level?
Everyone's body is different. Some skills that are considered standard contortion skills might be hard for certain people because of body type/proportions, training experience, etc. I don't want to discourage people to apply because of body type. We do hope that everyone who applies is able to go in and out of a chest stand relatively easily though.

Do I need to find my own housing, or will housing be provided?
You are responsible for finding your own housing. There are resources on this website, or you can ask the circus community as there are usually people looking to sublet their rooms during the month of June.

Is there an age limit?
Technically no. The program is designed more for students 17-30, but you will not be turned away solely based on age if you are over that. (Every past intensive has had at least 2 people over 30)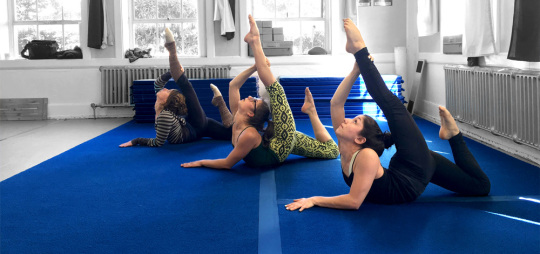 Unlike anything offered in the US, this four-week intensive not only increases students' flexibility and knowledge in Mongolian contortion, but develops and creates well-rounded performers. This program will focus on perfecting technique, developing personalized tools, and learning new skills to add to students' repertoires, as well as weekly workshops. These speciality workshops will deal with nutrition, character development, resumes, and helping students navigate the professional circus world upon completion. Throughout the intensive, students will work on developing individual acts, which will then be presented in a final showcase on the last day of the intensive. Any budding contortionists looking to enhance their technique while gaining knowledge of this business would significantly benefit from this intensive.

If you have any questions, you can contact our instructor Catie Brier at catie@circuscenter.org


INTENSIVE DIRECTOR & LEAD INSTRUCTOR: CATIE BRIER
Catie has been a resident of San Francisco for over 11 years. She began her training at Dance and Circus Arts of Tampa Bay over 17 years ago, where she studied dance and contortion. During her time there she trained under choreographer Debra Brown and contortionist Laurence Racine. Upon moving to San Francisco she started training with Master Lu Yi at Circus Center. She went on to train with Mongolian contortionist Serchmaa Byamba and began performing all around the United States. She's been seen performing with companies such as Quixotic Fusion, Circus Bella, Trapeze World and New Pickle Circus. Throughout her career Catie has developed a passion for not only teaching the art of contortion but also inspiring people to push the limits of their bodies. Over the last few years Catie has developed a thriving and entirely unique contortion program at Circus Center. This will be her 5th year directing the Contortion Intensive since establishing it in 2013.