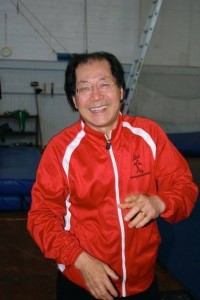 After 23 years as Artistic Director of Circus Center, where he has trained a generation of acrobats who went on to perform in starring roles with elite circuses around the world, Master Lu Yi has announced he will retire from active teaching at the end of this summer. I am happy to say, however, that he will be staying in the circus world and the Circus Center family. Lu Yi came to San Francisco to bring Chinese acrobatics training to the United States, and now he is going to pursue another lifelong dream: founding a small, professional performance troupe that will raise the level of acrobatics in America. He is founding this troupe here in San Francisco, and inviting former students and members of his extended circus family to audition and be part of his dream. Circus Center and Lu Yi's new troupe will work together in a close partnership. Circus Center will provide facility, equipment, training, and promotional support, starting with hosting the company's first auditions in early September. Master Lu Yi says that training and performing are two halves of one whole, and both sides will be strengthened by this partnership: students who trained for years at Circus Center will now have an opportunity to perform onstage, and those performances will in turn inspire more people to discover the joy of circus training. Everyone here at Circus Center is incredibly grateful for Lu Yi's long years of teaching and leadership, and we are proud to stand beside him as he pursues one more beautiful circus dream. We love Lu Yi, and if you do too,
we invite you to share your message of love and gratitude for Lu Yi on our Twitter or Facebook pages.
If you're feeling hashtag-y, we'll be using #circusislove and #thankyouluyi (and, of course, #circuscenter).