Circus Center is proud to be the training home for circus artists of all levels, including many advanced students and professional performers. For community members who have demonstrated sufficient skill level, safety awareness, and an ability to share the space in a respectful manner, we are happy to offer the ability to train here on your own as Individual Users.
This program has existed for a long time here, of course, but read on for news about ways that we are striving to improve it, including:
New lower pricing,
The addition of new points in the gym,
A way to see when events like parties may be occupying training space, and
A reminder about how to book space and our policies.
New Lower Pricing
Effective immediately (but not retroactively, sorry), we are lowering the price for the Individual User day rate, and adding an option to buy three months at a discount:
Single Day: $10 (was $15)
One Month: $40
Three Months: $100
Individual Users who are also
current Circus Center students receive a 20% discount
off these rates (i.e., $8/day, $32/month, $80/three months). You must have active, unexpired classes on your account in order to qualify.
New Points Added
Jennings has been hard at work making our main training space more useful and flexible for aerial training.
One project is changing dead-hung apparatus to pulley points; so far, what used to be the dead-hung tissu has been converted (now Point C). Points A and B, which used to be dead-hung, will get pulleys soon. He also has added three dead-hung apparatus to the beam at the northern end of the gym—two tissus and a rope. These are only usable when the flying net is down.
Check out the new rigging map of the gym below for a complete picture of our current resources: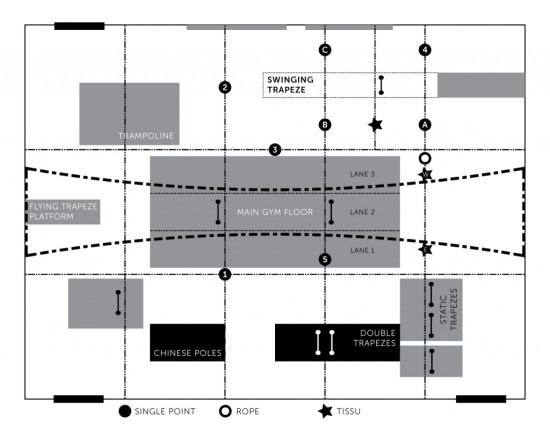 Use Our Calendar to See What's Happening
We are working on bringing back the ability for Individual Users to reserve training space online, but for the time being, you must contact the Student Services Team by phone (415-759-8123) or e-mail (info@circuscenter.org) to book training time.
If you want to see what's going on first and get a sense of what might be available, you can check the "Circus Center Official" Google Calendar. This is easily accessible through the little calendar icon at the top of every page of our website. We use this calendar to record things like parties, youth training, workshops, performances, and building closures.
Finally, A Reminder About the Basics
To become an Individual User:
Fill out an Individual User Application (available here or in hard copy at the front desk)
After your application receives administrative approval, get instructor approval for your skill level in one of three ways:

Attend a General level class and talk to the instructor (time in class permitting)
Schedule a 30-minute evaluation (private lesson rates apply)
Send video of yourself training/performing on the apparatus(es) for which you want to be approved.

A rigging lesson is required for all Aerial Individual Users who rig any equipment. This lesson covers the inspection of your personal equipment and important safety practices, rules, and regulations. A rigging lesson fee applies. To request a lesson, speak to the front desk about setting an appointment with Jennings.
Once your application is fully approved, pay a membership fee. Anyone in a training space, whether they are training, rehearsing, volunteering, spotting, holding ropes, or giving feedback, is considered an Individual User. This fee is non-refundable, non-transferable, and not proratable for holidays, gym closures, or any other reason.
To reserve space, contact the Student Services Team by phone (415-759-8123) or e-mail (info@circuscenter.org).
We want Circus Center to be your lifelong training home, and we hope these changes and clarifications will help send one clear message to Individual Users past, present, and future: YOU are Circus Center. Train hard, and we'll see you around!