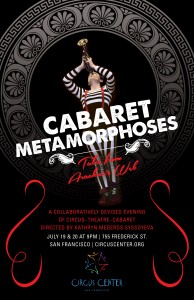 There's a lot of buzz around the building these days about our upcoming production of
Cabaret Metamorphoses: Tales from Arachne's Web.
Almost two dozen of our students and faculty are involved as performers and members of the creative team, and members of our broader community are stepping up to help make the production a reality with a contribution to our Indiegogo campaign. If you are able to contribute to this unique circus-theatre-cabaret production, I know that when you see the show, you'll be so proud to say, "I helped make that art happen."
Click here to donate (and earn some fab perks too!)
. As the training arm of the Pickle Family Circus, Circus Center started out at the vanguard of the American New Circus movement, and this project carries on that tradition of innovation by taking
nouveau cirque
fully into the realm of great storytelling, blending the sensory poetry of circus arts with the narrative power of the spoken word. Adapted from Ovid's
Metamorphoses
, the show tells the story of Arachne – the weaver of Greco-Roman myth whose tapestries spoke truth to power. The nine myths in
Cabaret Metamorphoses
are Arachne's tapestry – stories of love, desire, violence, and transformation unfolding in an amoral cosmos. Blending lyricism, humor and the grotesque, this Circus-Theatre-Cabaret is a modern fairy tale for adults, mining ancient tales for truths about human experience – and weaving a story that finds redemption in the art of its telling. Ovid was Rome's bad-boy poet – exiled to the furthest corner of the Roman Empire for his
Amores
, poems about desire and seduction. Written during that exile,
The Metamorphoses
have a lot to say about art, truth, and power. So mark your calendars today for the
Cabaret Metamorphoses
performances at 9:00 pm on July 19 & 20, and if you are able, please consider
making an investment
in Circus Center as a community where innovative, exceptional art is created.