Circus Center's participation in the Batkid Make-a-Wish got me thinking a lot about what it means to be a superhero. I was particularly struck by the fact that, of all the superheroes out there, young Miles chose to become Batman. Now, there are lots of cool things about the Caped Crusader — the awesome cars and toys, the brooding alter-ego Bruce Wayne, the outlandish villains to fight. Still, I believe Miles' love of Batman has important things to teach all of us about what it means to be, not just a superhero, but
superhuman
.
Many superheroes acquired their extraordinary powers through some form of accident: born on another planet, or with genetic mutations, or bitten by a radioactive spider. Batman, by contrast, is just a regular guy underneath his armored suit. He has mad skills, of course — he's an excellent fighter, a daredevil acrobat, and he can drive any vehicle like a stunt man. But these are all skills that Bruce Wayne chose to acquire and spent thousands of hours learning. Miles chose to be the kind of hero that any of us could be:
an ordinary person doing extraordinary things.
Circus is a little like that, too. Every day, I see people come into Circus Center and learn to fly, or hold an unassisted handstand, or climb a rope 30 feet into the air. Things that seemed impossible, with hard work and great coaching, become possible.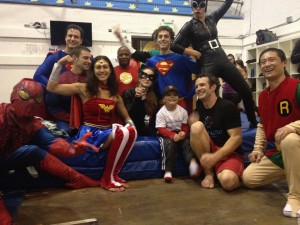 Superheroes also have experienced a trauma or hardship in their lives. Batman lost his parents in a senseless crime that exemplified the corruption and degradation of Gotham City. The superhero's inner battle involves
turning pain into something positive.
With his Make-a-Wish, Miles took the pain of his three-year battle with leukemia and transformed it into an empowering experience, a brave statement about his ability to triumph against very long odds.
Finally, Miles and everyone involved in the Make-a-Wish lived up to Batman's example by
making a generous choice.
Miles chose to become someone who fights to keep people safe. The Make-a-Wish Foundation, including our own Eric "EJ" Johnston, chose to move heaven and earth to make a little boy's dream come true. And thousands of people around this city, including the superhumans who teach and train at Circus Center, chose to pitch in and make the experience the best it could possibly be.
Above all, it is our choices that can make us superhumans, if perhaps not comic book superheroes. As we enter first the holiday season and then the new year, I hope that the example of Batkid inspires all of us to make "super" choices — to become better, braver, and more generous versions of ourselves.