For many companies, January tends to be a slow time, and I expected that pattern to hold true for Circus Center. Boy, was I wrong. Not only was January an eventful month for me personally with the birth of my daughter Elana, but it also proved to be a month full of new and exciting opportunities for the Center and our faculty. The phone rang off the hook with calls from amazing circus artists and troupes looking for a chance to teach our students and train with our instructors. At the same time, our instructors were traveling hither and yon, sharing their gifts with athletes and performers at the highest levels. Here are just a few of the highlights:
Master aerial instructor Elena Panova traveled to Paris, where she served on the jury of the famed

Festival Mondial du Cirque de Demain.

This is the same festival where she won a coveted gold medal in 1987!
Master Lu Yi continued to bring his expertise to the world of synchronized swimming, providing specialized acrobatic training for the US National Synchronized Swim Team.
Circus Center's Clown Conservatory, under the direction of Joe Dieffenbacher, enrolled a record 18 fabulous clowns for the 5-week intensive that starts on February 10.
Aerial instructor Morgaine Rosenthal recently said "so long for now" as she left to perform with Circus Italia in Florida.
Trio Anneaux, an award-winning hoop-diving trio featuring Circus Center alumna Maya Kesselman, booked a three-month residency here starting in March, complete with a performance, workshop, and classes for our community.
Kathryn Syssoyeva, a rising star in the world of circus-theater, held a short workshop in devised circus-theater creation, and will return to Circus Center for a four-day intensive March 7-10.
Famed clown Barry Lubin — the Big Apple Circus's beloved Grandma — booked at least one workshop at Circus Center to be held in April.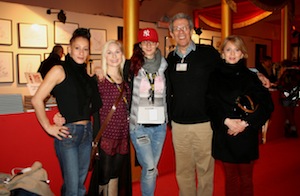 (At left: Elena Panova at the Festival Mondial du Cirque de Demain with three other gold medal-winning trapeze artists and Big Apple Circus founder Paul Binder.)
The main driver of all this wonderful activity is the strength and reputation of our faculty.
This is no mystery to you, the students and members of the Circus Center community — it's why you choose to train here, to see performances here, and to support this organization in so many ways. But it's also no secret in the wider world of circus, either. Great artists want to travel to San Francisco to work with our students because they know that you're getting first-rate instruction from top-quality teachers. The discipline and the fundamentals are already there. And although it sometimes may be hard to watch our instructors answer the call from elite circuses and festivals, we know that they carry the Circus Center name with them — and that's what keeps the phone ringing, even during a cold, sleepy month of January.