We are excited to announce the opening of Winter 2017 Session Enrollment! Classes will open for Full Session Enrollment on
Thursday, November 17 at 10:00 am.
Here's the Session Schedule (
also available here
):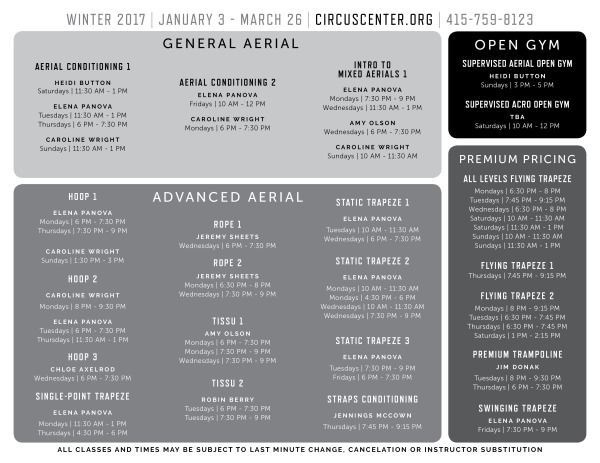 Winter Session runs from Tuesday, January 3 through Sunday, March 26, 2017. Monday classes meet 11 times and classes on all other days of the week meet 12 times. Full Session pricing is as follows:
| | | | |
| --- | --- | --- | --- |
| | General | Advanced | Premium |
| 11 Weeks (Mon) | $198 | $308 | $330 |
| 12 Weeks (Tu-Sun) | $216 | $336 | $360 |
Class space is limited!
To ensure that students receive only the best instruction, we keep classes small and intimate. Session enrollment guarantees your place in class for all weeks. For each enrollment you purchase, you are eligible for one make-up class that you can use for any reason at any point during the term.
Drop-in enrollment for Winter Session opens November 28, 2016
, and can be purchased as a single class, a 5-class pack or a 10-class pack. Please remember that space is not guaranteed in every week should you choose drop-in enrollment.
A few notes for you:
If you need a prerequisite, make sure to get this ON YOUR ACCOUNT prior to Thursday! If you don't have a prereq, we can't hold a spot for you.
If you call/email/come in prior to 10:00 am on Thursday, we will not be able to take your request. If you email prior to 10:00 am, that email will go to the bottom of our list after we address the people who register after 10:00 am. It's only fair!
Make sure you have an up-to-date payment method on your account. If the payment doesn't go through, we will notify you, but we may not be able to hold the spot for you.
Session enrollment is FINAL SALE. No changing classes, no sharing with another person, and there is ONE MAKE-UP per session. Exceptions are made on a case-by-case basis and ONLY with a documented medical issue.
The Student Services Team will be very busy with session enrollments on Thursday, so they will be unable to handle most other requests. Thank you in advance for your understanding.
On Thursday, November 17 at 10:00 am,
Call 415-759-8123 or send an e-mail to info@circuscenter.org to enroll!