I've been a performer since I was a little kid. The earliest performance I can remember is when I played the starring role in a play called "The Littlest Angel" at my family's church. I had more lines than any other character — learning them all was a daunting task for a 9-year-old! In addition to rehearsals, I spent hours with my mom running my lines and blocking. I worked so hard because I knew that in a matter of first weeks, then days, I would be on stage in front of a live audience. I wanted to be ready to shine, and I definitely wanted to avoid screwing up!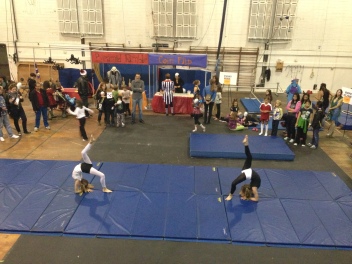 For many of our students, performance is the point of circus training — their goal is to strut their stuff onstage, here at Circus Center and/or elsewhere. Even if performance is not your primary goal, however, it has a unique power that can make it a vital part of your training.
I was reminded of the pedagogical importance of performance at last weekend's Halloween Haunted House & Carnival here at Circus Center. Our Youth Circus students performed single-point trapeze, tissu, hoop, and acrobatics routines four times over two nights. Everyone did a terrific job. These students train hard every week, but because they knew they had a performance coming up, they trained even harder. They also learned things in performance that are hard to learn otherwise:
the difference between rehearsal quality and performance quality
the stamina and focus required to perform multiple times in one weekend
the importance of stage presence, especially in their entrances, bows, and exits
which skills they know well, and which need more practice
how to adapt their routines to different pieces of music
how to cope with wardrobe mishaps and other little surprises
how to support their fellow performers
and much more.
There really is nothing like a performance to focus your mind and push you to raise your game. That's why I encourage everyone who trains at Circus Center — from our greenest beginners to our seasoned pros and even our instructors — to audition this Sunday (2 – 6 p.m.) for the Winter Showcase. Come show us which tricks you've mastered, and which ones you're still working on. We will work with you to make the process both positive and instructive. To sign up,
fill out this application
; for more information, contact Erin Brothers at
erin@circuscenter.org
.
Be part of the Winter Showcase, and experience for yourself the power of performance!
Barry Kendall, Executive Director