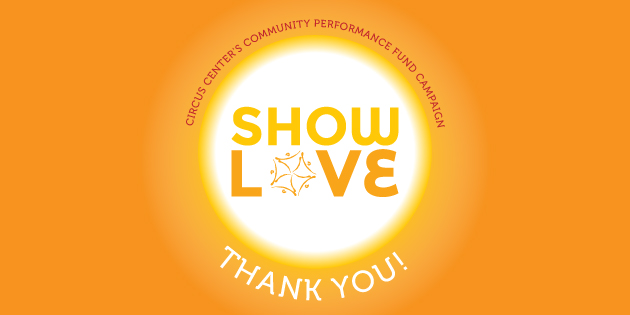 Thank you, from the bottom of our hearts, to every one of you who gave to SHOW LOVE!
Together, over this campaign, we raised just over
$17,400
for Circus Center's coming season of free, low-cost, and pay-what-you-can community shows. That's
$2,400 over our original goal
- thank you!
Your contributions have made several important things possible already:
We're hiring a Technical Director, an important step in our commitment to bring you professional-quality shows and performing experiences (by the way, we're accepting applications now - full job posting here).
We are also hiring a lighting designer, stage manager, and costume designer for the SF Youth Circus Show (interested? See the job postings here).
We built at ½ inch scale working model of the Theater, an essential tool for designing shows.
Soon we'll be putting out a call for directors for September's Adult Recreational Student Show in the Theater.
And this is just the beginning!
Your support reminds us how special, strong, and generous the Circus Center community is.
Thank you so much for partnering with us to bring the joy of circus arts to our community, and give a spotlight to the next generation of circus artists.
Besides donating, there's another incredibly important way you can support Circus Center's community shows:
come see them!
Here's what's coming up:
Mar 23-25 & Mar 30-Apr 1: Clown Conservatory's show, The Supers
Apr 29-30, May 5-9 & May 12-13: The San Francisco Youth Circus' Show
May 20: Flying Trapeze & Adult Rec Student Spring Showcase
September (dates TBD): Fall Adult Rec Student Show
So
subscribe to the Circus Center newsletter
and
watch the blog
for news throughout the year about our upcoming shows, and how your gift to SHOW LOVE is making a difference.
Thank you - we can't wait to see you at the shows!
Onwards and upwards,
Barry
Barry Kendall
Executive Director, and
The Board of Directors, Steve, Sara M, Jennings, Xiaohong, Elena, Felicity, Texas, Katie, Tracey, Sarah B, Phoenix, Fernando, Sarah H, the Student Services Team, and all the staff and students of Circus Center
P.S.
It's never too late to help bring free/low-cost/PWYC circus in your community
- any donation throughout the year helps Circus Center share the magic of circus arts with you!
You can support the circus arts at any time
by giving here:
www.circuscenter.org/donate